A World of Infinite Possibilities at Anvaya Cove
At Anvaya Cove, it is the beach, with its soft gray sands and clear blue waters, that is the main attraction.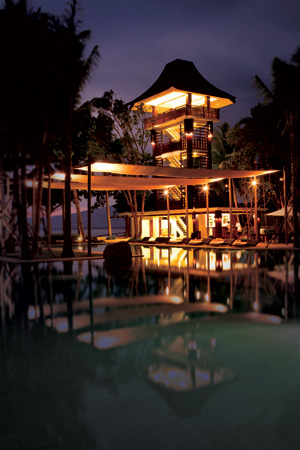 Seaside Reverie
From out the depths of the sea, the majestic pawikan swims onto the shores of Anvaya Cove. This sea creature, with its powerful flippers and colorful carapace, wanders onto the beach at night digging a hole on its soft gray sand. Weary from her labor, she proceeds to lay a whole bunch of soft-shell eggs, numbering anywhere from 50 to 200. Her mission accomplished, the pawikan saunters back to the ocean from whence she came.
In the morning, staff members of Anvaya Cove guard these eggs zealously, placing protective nets around the hole. A month or so later, it is time for the baby pawikans to be released to the sea; and members of Anvaya Cove gather around the quiet beach, feeling fortunate to witness such a wondrous event. It is occasions such as this that make Anvaya Cove an almost otherworldly place.
Situated in a quiet corner of Morong in Bataan, it's easy see the appeal of this seaside community. Spread over 320 hectares, Anvaya Cove features vast tracts of open space where nature can grow unencumbered. Neighborhoods are planned with respect to the natural lay of the land. Thus, instead of a flat landscape, the community has rolling hills and terrains, adding more beauty to the whole package.
The same thoughtful consideration for nature comes to play in the design and building of the various facilities from the Welcome Pavilion and Bamboo Café to the Lookout Tower and Tower Bar, all of which are characterized by the use of local materials with accents of greenery.
It is the beach, however, that is Anvaya Cove's major attraction, says Glenn Fabricante, Anvaya Cove Events Manager. Not only is it accessible to Manila residents, it is also very clean, pristine almost. Its clear blue waters invite swimmers to stay all day while its fine white sand serve as the setting for a variety of fun activities. Because Anvaya Cove is an exclusive community, the beach never gets crowded. This is especially important for members and guests who value peace and privacy.
Lounge chairs strategically placed along the coastline are perfect for sunbathers. Those who prefer more active getaways may fancy a round of beach volleyball or a game of flag football. Others who like their action in the water can enjoy the many water sports equipments available from kayaks and aqua trikes to banana boats and paddle boards.
Because night swimming is discouraged (so as not to disturb the pawikans that might be laying their eggs), members like looking out to the clear skies, pointing out constellations and watching out for shooting stars.
Anvaya also hosts regular activities for its members and their guests including the Great Amazing Race to Anvaya Cove on October, the Invitation Triathlon on November, and the community's anniversary celebration on March. However, says Fabricante, it is still the releasing of the baby pawikans onto the ocean that is the most anticipated event in Anvaya Cove.
Anvaya means home in Sanskrit—and Anvaya Cove offers a world of glorious possibilities for those in search of a good one.
TURISTA GUIDE
Getting there
Take the North Luzon Expressway through San Fernando Exit, SCTEX, and Angeles Exit. Anvaya Cove is about two and half hours away from Manila by land.
Accommodations
Anvaya Cover is community of weekend homes and condominium buildings. You can choose to buy a lot, a condominium unit—or even a whole cluster of units. You may also purchase shares at the Anvaya Beach & Nature Club to enjoy its facilities. Entrance fees are waived for guests of members (for up to 10 people) on weekdays. Member guests of more than 10 will be charged day visit fees.
Food
The Bamboo Café serves a variety of foods from Filipino favorites to Continental entrees. Not only are the portions generous, they are also very reasonably priced.
Activities
Have fun at the Great Lawn. Equipments and facilities for playing frisbee, volleyball, soccer, flag football, billiards, foozball, table tennis, air hockey, and darts are available.
Sweat it out at the Nature Camp. Take the various fitness challenges at Nature Camp. Go wall climbing or rapelling. Or whiz through the adult zipline, which is 100 feet high and 260 meters long. There's also a less daunting kiddie zipline for children 12 and under.
Explore Bataan. Want to explore the area? You can drive up to West Nuke Beach, a strip of sand adjacent to the white elephant that is the Bataan Nuclear Power Plant. Or you can go trekking up Mount Samat.
Enjoy the heat of fire. Anvaya Cove staff members can set up a bonfire by the beach, where you can toast hotdogs and marshmallows or grill lean meats and veggies while exchanging ghost stories.
Thumbs up
Service at Anvaya Cove is exemplary. Staff members are always ready with a smile or a helping hand.
Contacts
Anvaya Cove
Morong, Bataan
(632) 908-3908
ask@ayalalandpremier.com
[PAGE 3: photos of interior design renderings]
[HEAD] Cocoon of Tranquility
Interior designer Ito Kish gives his vision of a weekend home at the Sea Breeze Veranda.
On the highest ridge of Anvaya Cove will stand a cluster of residential buildings sprawled over four hectares. From its windows and verandas, one can take in the pleasure of looking out to the South China Sea and the Ilingin Cove and seeing the mountain ranges of Bataan and Zambales. Such treats are what await families who choose Sea Breeze Verandas to be their weekend home.
The vision of interior designer Ito Kish for the Sea Breeze Veranda weekend home is a refreshingly contemporary one. You'll find no wicker furniture here, and you won't encounter billowing white curtains either. "We didn't want to do what's expected of a weekend home," says Kish.
Taking cues from the surrounding environment, Kish wanted to create a cocoon of tranquility, a space where families can restore their spirits from the stress of city living.
The color scheme is stylishly neutral, which complements the blues and greens of nature. Kish says, "We didn't want it to look feminine or masculine. We wanted it to appeal to both genders."
The materials comprise of a mix of the hard and the soft, the indigenous and the modern.
In the living area, the white sofa is set against a wall of mirrors, giving the illusion of spaciousness. Providing additional seating are chairs of wood and stools of powder-coated metal. The side tables of ailing grey as well as the more ornately designed lamps give a touch of modern while the carpet of abaca serves as a nice anchor point. Opening the glass doors brings in the cool breeze as well as fantastic views of the surroundings.
The kitchen and dining area follows the same scheme with the dining table and chairs made of natural wood. "Our furniture pieces are loose, so that you can move them around," says Kish.
Accent pieces, like the paintings and the lighting features, were well chosen to evoke a feeling of quiet elegance.
In the bedroom, the vibe is much more dramatic. The accent wall of grayish blue sets the mood for a restful evening. Instead of a headboard, Kish chose to use a panel with up lights, which showcases the artworks and the vases and gives the room a relaxed ambiance. The bed linens of muted gray hold the promise of a comfortable slumber.
The weekend home is a place to relax and rest in a lovely setting, and all these design elements definitely give the Sea Breeze Veranda an easy luxurious feel.
[PAGE 4: photo of architectural rendering for inset, please put photos of golf course, photos 065-074]
[HEAD] Elegance Amidst the Greens
[SUBHEAD] Architect Mike Pena designs a modern tropical abode for Parkway Vistas.
Against the backdrop of Anvaya Cove's rich terrestrial ecosystem will spring structures in harmony with the natural elements; this is what Architect Mike Pena sees for the future of this picturesque seaside community, particularly for Parkway Vistas.
Located amidst a natural terrain of gently sloping hills, Parkway Vistas will feature a seasonal brook alongside a golf course. It is envisioned to be the most extensive of the neighborhoods located on the southern point of Anvaya Cove.
For Parkway Vistas, Architect Pena says, "The concept of the design is tropical modern to be in tune with nature. Anvaya is a nature's haven and so we have to align our design with Anvaya."
This two-level home combines the indigenous and the modern. The floor to ceiling plate glass windows not only give its residents an abundance of natural light, they also provide almost panoramic views of the outside surroundings. Because Parkway Vistas is 45 to 80 meters above sea level, residents can look over the mountains of Silanguin and Natib.
Architect Pena adds, "We harmonized the natural elements such as wind and light." For example, the structure has been oriented as such to avoid the harsh rays of the sun and the heavy drops of rain. The large ceiling eaves also protect the home from heat and rain while expansive windows encourage natural ventilation and lighting.
The incorporation of great quantities of recycled wood as well as natural indigenous stones gives the hoe a sense of place. He says, "We made use of a lot of recycled wood so as to have a tropical forest setting and also as to be able to reuse old wood rather than cut new trees. We also made use of the natural indigenous stones for wall cladding. These stones were unearthed when we were doing excavation. Glass and steel were also used to inject a modern feel to the house."
[PAGE 5: photos 036-052]
[HEAD] Space Bliss
[SUBHEAD] Seascape Ridge makes communing with nature such a breeze.
If your family treasures the concept of privacy, but is partial to the security of condominium living then the Seascape Ridge may just be your ideal weekend home.
One of the lowest density neighborhoods at Anvaya Cove, large tracts of Seascape Ridge have been dedicated to open spaces and landscaped gardens. With only 14 quads spread across an area of 4.5 hectares, every unit features a commanding front yard and an expansive back yard.
Indulge your green thumb and grow an herb garden. Your friends and family will be pleased no end as you serve them with pesto prepared from basil grown in your own backyard. Or roll out a portable grill and invite relatives over for sumptuous weekend barbeques.
Bonding opportunities such as these make purchasing an entire quad for your whole clan ideal. Instead of booking your entire family in expensive getaways with all the hassles associated with managing large groups, you can meet up every weekend and leisurely enjoy each other's company. It's like your family has its very own weekend resort in the seaside haven that is Anvaya.
If you're not the type to entertain, then you can install some lounge chairs in your backyard and do a bit of reading and sunbathing. You'll have no problem getting into sun-worshipping mode as every unit offers exciting vistas. Choose from a seascape, mountain, or garden view. Mix up some margaritas for good measure.
With the quads built on an elevated location, your eyes can feast on an array of panoramic delights. Have your architect make room for bigger windows and even bigger balconies. Opt for natural lighting and ventilation in your interior design. Set aside the curtains. Throw open the windows. And delight in the warm breeze of the mountains and the sea.
Subscribe to INQUIRER PLUS to get access to The Philippine Daily Inquirer & other 70+ titles, share up to 5 gadgets, listen to the news, download as early as 4am & share articles on social media. Call 896 6000.